0122
-
CEH 0122 - Managing the Long-Term Effects of COVID-19: Focusing on the Needs of Providers and Patients
2306753
Description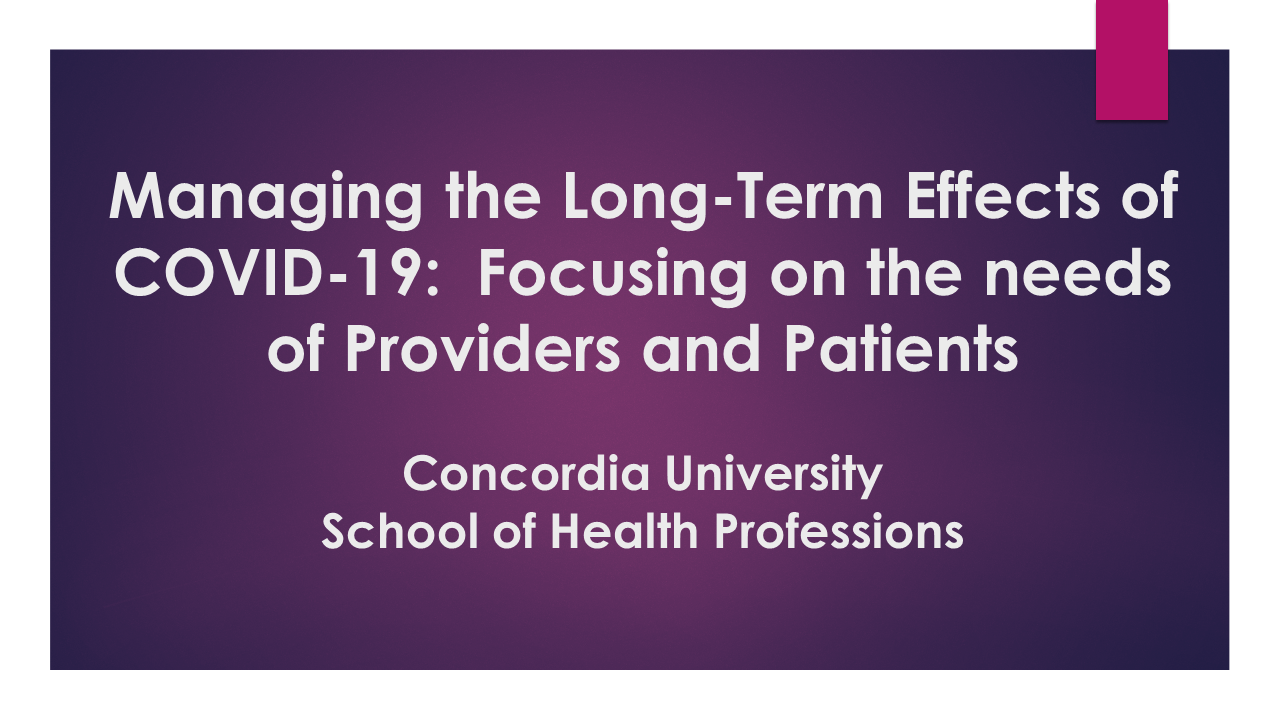 The COVID-19 pandemic has taken its toll on patients and healthcare providers alike. Front line workers have experienced long shifts, fear and anxiety, exhaustion, burnout, fear of transmission to family, deaths of patients and colleagues, and mental health challenges. Many have been unable to address their personal needs as they focus on saving the lives of their patients in the acute stage of the disease. Many patients, after surviving COVID-19, continue to experience persistent long term neurologic, cognitive and cardiopulmonary symptoms referred to as post-acute sequelae of COVID-19 or "PASC", which limits return to their prior level of function. Meeting the complex needs of both providers and patients is essential in effectively managing the long-term effects of COVID-19.
This 7-session speaker series, hosted by Concordia University Wisconsin, will focus on the needs of both providers and patients as we continue to manage the impact of this healthcare crisis.
The 2-hour sessions, designed for a diverse audience of healthcare providers, will be offered monthly in a virtual format (6-8pm) to best meet the needs of our busy healthcare workforce.
Each session will include perspectives from at least two different healthcare professionals, with the goal of providing resources and supports to providers so they can continue to meet their own needs, as well as the ongoing needs of their patients.
Presentations will focus on the importance of effective inter-professional collaborative patient-centered care.
Dates for the sessions:
April 19th: Meeting the Needs of our Healthcare Providers: The Provider Perspective and Organizational Supports Provided
Speakers/Panelists include: Kate Bennett (CUW/Marshfield Clinic),Dr. Sheila Swartz (Medical College of Wisconsin), Ryan Neville (Marshfield Clinic), Dr. Andreea Anton (Zablocki VA Medical Center), Chris Dickert (Ascension St. Francis), Rev. Kerri Allen (Advocate Aurora), Terron Daniels (Advocate Aurora South Shore).

May 17th: Payor Considerations and Administrator Perspectives
Jaclyn Warshauer (Aegis Therapies) & Craig Jankuski (Advocate Aurora)

June 21st: Case Manager and Primary Provider Perspectives
Dr. Julie Biller (Froedtert COVID Clinic) & Case Management (Speaker TBD)

September 20th: Respiratory Therapy and Pharmacy Perspectives
Brian Eisner (Advocate Aurora Grafton) & Pharmacy (Speaker TBD)

October 18th: Speech Language Pathology and Dietician Perspectives
Morgan Fitzgerald (SLP Froedtert), Hannah Hartman (SLP Froedtert), Rachel Ludke (Dietician Froedtert), Katherine Kraiss (Dietician Froedtert)

November 15th: Physical Therapy Perspectives/Sleep Disturbances/The Role of Neuropsychology
Chris Schaefer (PT Therapy at Home), Chris Potter (PT Advocate Aurora Grafton), Dr. Andreea Anton (Zablocki VA Medical Center), Neuropsychology (Speaker TBD)

December 6th: Occupational Therapy and Mental Health Perspectives
Occupational Therapy & Mental Health (Speakers TBD)

Registration is now open. Attendees can either register for individual sessions at a cost of $20 each, or they can register for the full series of 7 sessions for a discounted rate of $110. All sessions will be recorded and will be available for purchase/viewing even after the session date.
If you have questions or need more information, please contact Dr. Lois Harrison at lois.harrison@cuw.edu or (262) 243-4468.
Additional Information
Times listed are in Central Time.
Required fields are indicated by .