0051
-
CEN 0051 - Certified Nursing Assistant (CNA) Course
1387059
Description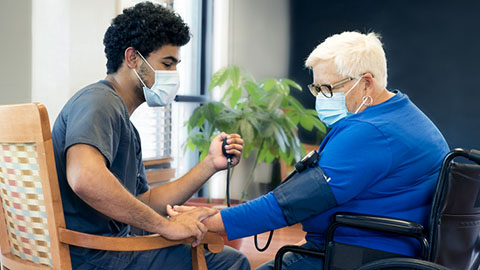 This program is designed to train participants to be able to provide safe and effective care to residents in long-term care facilities. Participants will learn and practice in a state of the art skills and simulation center, which allows learners to practice a variety of situations in a realistic and safe environment. The focus of this course will be on caring for those with various types of dementia, mental illness, developmental disabilities, and other issues that are common to adults living in long-term care facilities. This program includes classroom instruction, hands on training for CNA skills, clinical experience, and simulation practice to ensure complete understanding and confidence in providing patient care. Participants will learn about and demonstrate integrity, respect, caring, and protection of the dignity of the individual, with the ultimate goal of improving the quality of life for people receiving care. Successful completion of the course will allow the participant to take the state certification test.
Course Outline
The overall objective of this Nurse Aide Training Program is the provision of quality services to residents in long term care facilities by nurse aides who are able to:
1. Form a relationship, communicate and interact competently on a one-to-one basis with the residents
2. Demonstrate sensitivity to residents' emotional, social, and mental health needs through skillfully directed interactions
3. Assist residents in attaining and maintaining functional independence
4. Exhibit behavior in support and promotion of residents' rights
5. Demonstrate observational and documentation skills needed in the assessment of resident's health, physical condition and well-being
Event/Course Sections Select a section to sign-up for from the list below:
Required fields are indicated by .