0371
-
Fused Glass Jewelry Seminar
12623968
Description
Course: 0371 - Fused Glass Jewelry Seminar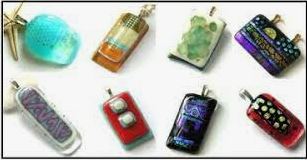 Class Topics: The seminar will cover a variety of techniques and glass materials to create fused Glass Jewelry. Students will learn how to cut/fabricate glass and the basics of glass fusing techniques. Kiln firing and firing schedules will be presented. The addition of various forms of glass and other materials will also be discussed.
Class Schedule:
Saturday · Introduction to Glass · Types of Glass · Cutting · Jewelry Fabrication · Glass Fusing/Kiln Firing schedules
Sunday · Unload Kilns · Cold finishing Glass · Attach Jewelry Finding
Offering Sections Select a section to sign-up for from the list below. All Times Are Listed in Central Time.
Required fields are indicated by .